My high school classmate once described a flood that overwhelmed her home in the Philippines. As floodwaters quickly filled the house, she was forced to climb to the top of the roof with her housemaid. They used an ax to open a hole in the ceiling and climbed through while the water continued to flow in. They spent several days perched there before a rescue team arrived. They lost everything and were forced to start over.

How Can I Prepare My Church for Flooding?
Flooding can occur in several ways, including heavy rains or melting snow. Often, we cannot prevent a flood from happening, resulting in our church becoming a cruise ship. Instead, we can always do our part as risk managers to make sure our local church is fully prepared if a flood comes our way.
Although we cannot prevent a flood from occurring, we can always do our part as risk managers.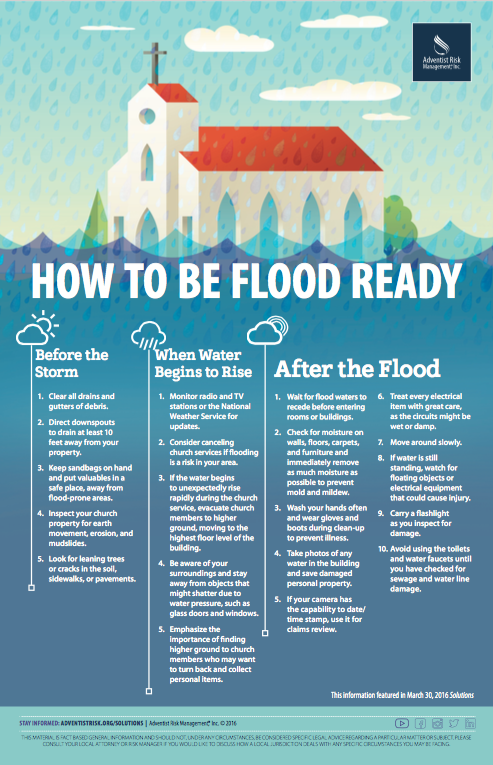 Here are
three steps your local church should follow
to stay dry and prepare for flooding:
Before the Storm: Clear all drains and gutters of debris. Direct downspouts to drain at least 10 feet away from your property. In all flood-prone areas, keep sgandbags on hand and put valuables in a safe place, away from flood-prone areas. Inspect your church property, checking for earth movement, erosion, and mudslides. Look for leaning trees or cracks in the soil, sidewalks, or pavements. If you find any issues during your inspection, take care of each one before the storm arrives.
When Water Begins Rising: Monitor radio and TV stations or the National Weather Service for updates. Consider canceling church services if flooding is a risk in your area. If the water begins to unexpectedly rise rapidly during the church service, evacuate church members to higher ground. This can include moving to the highest floor level of the building. Be aware of your surroundings and stay away from objects that might shatter due to water pressure, such as glass doors and windows. Emphasize the importance of finding higher ground to church members who may want to turn back and collect personal items.
After The Flood: Allow for flood waters to recede before entering rooms or buildings. Check for moisture on walls, floors, carpets, and furniture. Immediately remove as much moisture as possible to prevent mold and mildew. These irritants may cause asthma and other health problems. Wash your hands often and wear gloves and boots during clean-up to prevent illness. Take photos of any water in the building and save damaged personal property. If your camera has the capability to date/time stamp, use it for claims review. Treat every electrical item with great care, as the circuits might be wet or damp. Move around slowly. If water is still standing, watch for floating objects or electrical equipment that could cause injury. Carry a flashlight as you inspect for damage. Avoid using the toilets and water faucets until you have checked for sewage and water line damage.
Download and print the infographic with these three steps
right here
to post at your church.
For more information on how to prevent water damage, check out
ARM's Info Sheet
on preventing water damage and read more about caring for your church facilities in this
Solutions Classic piece
.
References
1

https://www.tpchd.org/environment/prevent-respond-to-flooding/
2

http://www.seattle.gov/util/MyServices/DrainageSewer/StormsFlooding/AfteraStorm/index.htm