Every year millions of acres of land are scorched by wildfires. According to the National Interagency Fire Center, in 2015, a record number of more than 10 million acres were burned in the United States alone. The best way to stop or slow down a wildfire from destroying your property is to prepare ahead of time.

Driveways
Your facility's driveway/entrance is how firefighting personnel will get to your property, so make it readily accessible for them by doing the following:
Keep highly visible metal road and address signs clear of foliage.
Make your entryway at least 12 feet (4 meters) wide, or 20 feet (6 meters), if your driveway is more than 150 feet long (46 meters).
Make your driveway a solid driving surface and ensure all culverts and bridges can accommodate heavy fire trucks or other vehicles.
Have at least two ways traffic can enter and exit your property.
Landscaping and Property
Divide your property into three defensible zones:
Zone one
is your maximum hazard reduction zone. Remove any fire hazards that can threaten buildings. In
zones two and three
, reduce and space out any fuel sources a wildfire could use to continue its rampage.
Remove outdoor furniture, small trees, shrubs, brush, mulch, dead trees, leaves, pine needles, stacks of firewood, and anything that can burn from within 30 feet (9 meters) of buildings. Replace mulch with elements that won't burn, such as rock, gravel, or stone.
Clean your rain gutters and roof of leaves, pine needles, and other flammable debris.
Prune tree limbs to a height of 6–10 feet (2-3 meters). Space trees so crowns are 10–16 feet (3-5 meters) apart. Well-trimmed trees prevent a fire from jumping from tree to tree and spreading further.
Replace fire-prone evergreen trees, such as spruce and pines that are susceptible to wildfire, with more fire-retardant plants such as rockrose, ice plant, aloe, hedging roses, bush honeysuckles, currant, cotoneaster, sumac, and shrub applies. Hardwood, maple, poplar, and cherry trees are less flammable than pine.
Plant short, green grass (3 inches, 7.5 cm, or less), and keep it watered and mowed.
Clear a 10-foot (3 meters) space around any propane tanks. Fill this space with gravel, rock, or short, well-watered grass.
Buildings
Flying embers ignite
more than half
of the structures destroyed by wildfires. Prepare buildings inside and out to withstand embers and combat fire.
Install sprinkler systems in all buildings. While sprinklers cannot prevent a fire, they can help extinguish a fire when detected.
Install smoke detectors in all buildings and test them regularly as part of a seasonal maintenance plan (link to seasonal maintenance page).
Make sure all building exits are accessible and marked.
Replace, repair, or plug any areas that could allow burning embers in­to a building, such as loose or missing roof tiles, gaps along roof edges, soffits, and vents. Vents and soffits can be covered with 1/8 inch (3 mm) or smaller metal wire mesh to keep flying embers out.
Use solid flame-resistant sheeting to enclose foundations, outbuildings, and trailers to prevent flying embers from sliding in underneath.
Store flammable items such as gasoline, paint, and solvents in approved safety containers in a fire resistant metal or brick building away from other structures.
Practice Wildfire Safety
Contact local officials to find out if you are in a high wildfire risk area and if there are specific guidelines to follow. Find out what wildfire notification systems are in place in your area and sign up for these alerts. If you see a wildfire, contact 911 immediately. They may not know the fire exists. Monitor the situation and evacuate right away, if advised to do so.
Before Evacuation
Have an escape plan in place that includes how you will communicate evacuation details with your constituents and evacuate any staff or children under your care. Practice the plan and be ready to go at a moment's notice.
Before leaving your property:
Shut off the gas at the meter and turn off propane tanks and air conditioning.
Seal attic and ground vents with pre-cut plywood or commercial seals.
Connect garden hoses to outside water sources for use by firefighters. Fill water buckets and place them around the outside of all buildings.
Don't leave sprinklers or water running. Water usage can affect critical water pressure used to put out the fire elsewhere.
Do leave lights on, which will assist firefighters to find your buildings easily.
A Word on Drones
Do not fly drones over wildfires.
Flying drones over wildfires interferes with firefighting equipment and can cause severe damage if your drone collides with a firefighting aircraft. Interfering with firefighters is illegal and can result in substantial fines.
WATCH: Fires are a No Drone Zone by National Interagency Fire Center
Have a Backup Plan
Sometimes the best prevention cannot stop a loss. Make sure all buildings and property are insured so you can rebuild if a wildfire destroys your facilities.
Learn more about
Building and Property Insurance
from Adventist Risk Management, Inc.

Read, Download and Print ARM's Wildfire Prevention Infographic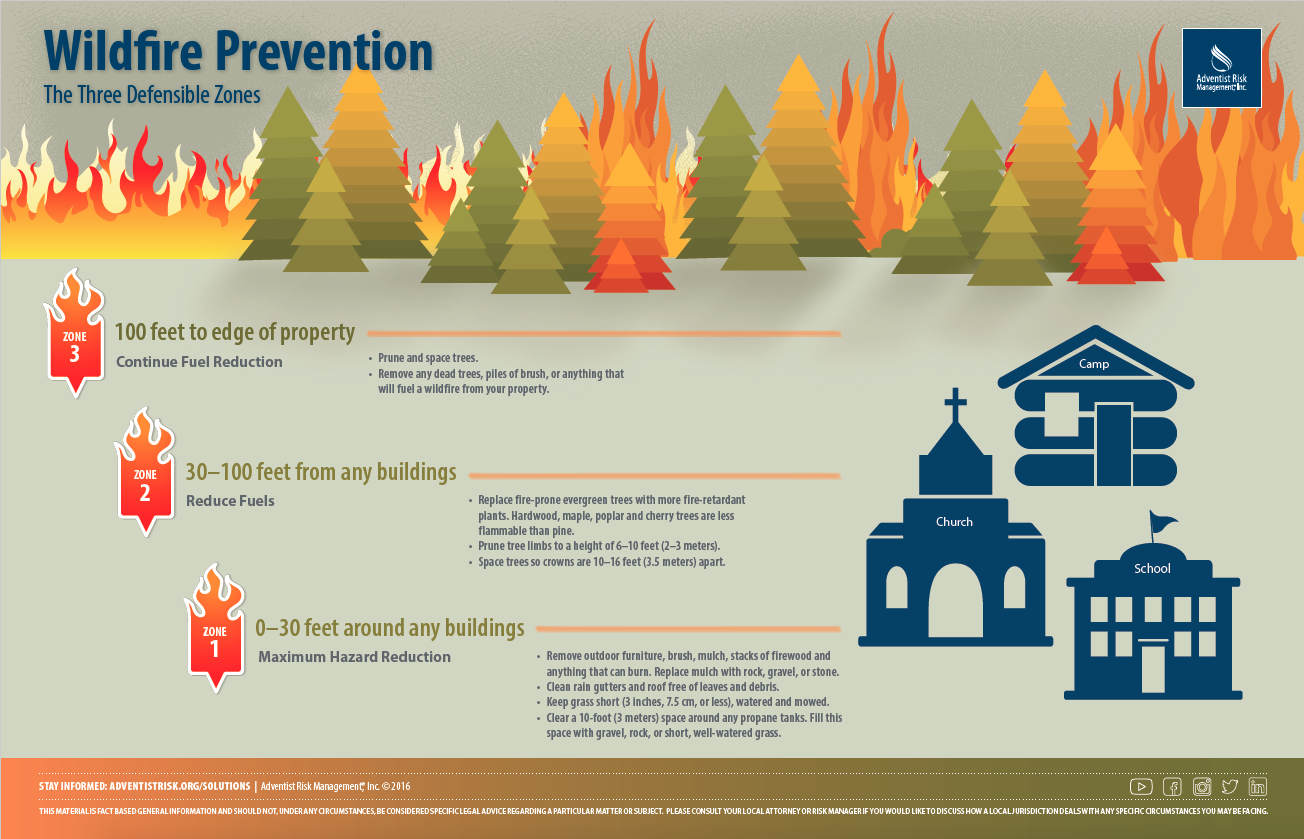 References
1

Burn Safe Tennessee http://www.burnsafetn.org/25tips_home.html
2

California Fire - ReadyforWildfire.org http://www.readyforwildfire.org/Pre-Evacuation-Preparation/
3

Colorado State Forest Service http://csfs.colostate.edu/wildfire-mitigation/protect-your-home-property-forest-from-wildfire/
4Department of Homeland Security – Wildfires https://www.ready.gov/wildfiresl
5National Fire Protection Association
6http://www.nfpa.org/public-education/by-topic/outdoors-and-seasonal/wildland-fires/wildfire-safety-tips
7Fire-Retardant Plants and Trees-http://www.readyforwildfire.org/Fire-Safe-Landscaping/
8National Geographic Wildfire Safety Tips http://environment.nationalgeographic.com/environment/natural-disasters/wildfire-safety-tips/
9National Interagency Fire Center https://www.nifc.gov/fireInfo/fireInfo_stats_totalFires.html
10No Drone Zone http://www.nifc.gov/drones/